LARGE DATA SETS
Please find below three introductory videos; one each for OCR, OCR(MEI) and Edexcel.
I hope you find them useful.  Please let me have any feedback to inform the production of further videos, thank you.
OCR

EDEXCEL

OCR(MEI) A Level 2024


OCR(MEI) A Level 2025

Some lovely Feedback so far;
A grateful local teacher.
'Firstly huge THANK YOU!  We were feeling a little out of our depth regarding teaching the large Data Set.  Your first two videos are great and give us a fabulous base.  Big question …. when will the third one be ready?'
A teacher all the way up in Derbyshire!  So excited they are travelling
'Hi,  At the end of your videos you say any feedback is greatly appreciated.  I just wanted to say they are amazing.  Thank you so much. I will be taking my y12 classes to the computer room this week to work through them as I have just done.  Thanks again'
A message from a parent
'My daughter is about to sit her Maths A level June 2020.  Her school are not doing much on the LDS so I was very happy when I came across your video on LDS 2 for OCR MEI.  It was excellent and thank you for making it.  It was very helpful.'  (Message to the parent, I tried to reply to your email but it bounced back.  There is currently only one video for OCR(MEI).)
FMSP/AMSP have referenced these videos in their  Spring 2018 Newsletter (page 3 bottom right).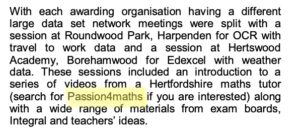 From MEI