This data set is now part of history, the new data set for A level 2020 relates to Boroughs of London & Regions of England; life expectancy, employment rate, house price, GCSE results and household waste.  I may get round to doing another video.
Lesson 1
An introduction to the OCR(MEI) Large Data Set 2018/19. A first lesson for familiarisation and to learn some of the Excel features.

Here is the World Map to put it all into context.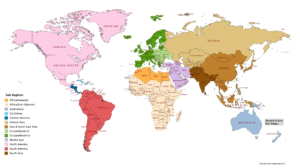 Click here to download.